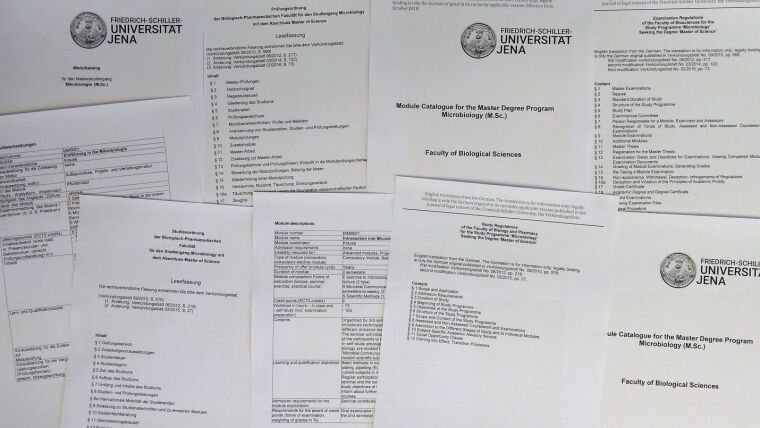 Modules & regulations
The study course is described via an overview, the module descriptions and the regulations.
Collage with first pages of module catalogue and regulations of M.Sc. Microbiology study program.
Criteria on basis of which the performances of the students are evaluated, are fixed in the study regulations and the examination regulations of the master study programme Microbiology.
The examination regulations and the study conditions are available for download on the website for study documents of the Faculty of Biological Sciences. Furthermore, generally, students can make use of the services of academic counseling and in special cases, they can confer with the person that is responsible for the module.
Detailed contents of the particular modules are to be found in the module descriptions in the module catalogue and they will be presented by the person that is responsible for the module, at the beginning of the semester.
Please also have a look at the German versions de of the documents mentioned above.
Below, certain versions of the study documents are also listed for download.
Current course offers suitable as wild card modules are listed here.
Further information and documents can be viewed on the website for students of the Faculty of Biological Sciences.
Notice
Please be careful to consult the updated version of the study documents!
The English versions of study documents on this website are only translations of the German documents. In case of doubt, the German version is valid. In some cases, there is no translation of the freshest study documents available or just an abbreviated version.